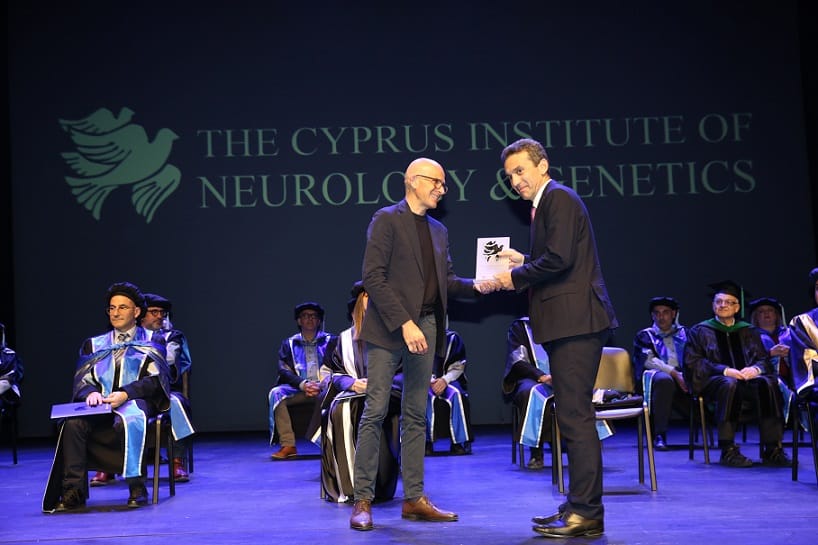 The Cyprus Institute of Neurology and Genetics (CING) has honoured Eurobank Cyprus for its long-standing support to the Institute's postgraduate school.
CING presented an honorary award for social commitment to the Bank, for its steadfast support to the Cyprus School of Molecular Medicine (CSMM), housed at the Institute. The award was presented at the CSMM's graduation ceremony, which took place in Nicosia on December 13, 2022. Eurobank Wealth Management Manager Marios Hadjikyriakos accepted the award on behalf of the lender.
As a socially sensitive and responsible organisation that actively supports enterprises and institutions contributing to the improvement of the public's quality of life, Eurobank Cyprus has actively supported CSMM since its launch in 2012, offering PhD and postgraduate students scholarships and sponsoring important lectures organised by the School, with guest speakers of international renown.
Supporting and providing opportunities for students, researchers and young scientists has been a long-standing priority for the Bank, as progress in the research, innovation and education sector has a direct impact on improving the quality of life of our fellow human beings and society at large, as well as on the development of the local economy.
In its three decades of operation, CING has made a decisive contribution to the implementation of quality research and provision of medical care to thousands of patients, an impact significantly enhanced thanks to the Institute's Cyprus School of Molecular Medicine.