After years in the political wilderness, will independents' day dawn at last on May 30?
By Theo Panayides
No independent – i.e. non-party – candidate has ever been elected to parliament in Cyprus.
"Perhaps it's time that one did," says Andreas Christou, one of seven men (they're all men) standing for the elections on May 30 without being affiliated to any party – not even Generation Change, which claims to be a party of independents.
The eternal failure of independent candidates to advance isn't hard to explain. One reason might be that voters are reluctant to support a lone voice, whose impact in parliament would be limited compared to that of a party.
But the main reason is surely the absence of so-called horizontal voting, i.e. the ability to vote for candidates across party lines.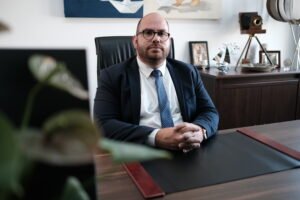 This is damaging, for two reasons. The first is the provincial nature of politics in Cyprus, where votes are often driven by an obligation to support a friend or family member. Horizontal voting would enable people to vote for that individual without confining themselves to their party – meaning they could also cast a vote for someone else, like an independent.
The second reason is simply the advantage conferred by party lists. "There might be a candidate from a political party who gets 900 votes," explains Avraam Themistokleous, who's standing as an independent in Larnaca. "I might get 901 votes – but, at the end of the day, he might get a seat, because he's a member of a party, and I won't."
Those numbers are hypothetical, of course. Themistokleous actually needs around 5,000 votes to advance; Christou (who's in Nicosia) probably needs slightly more. It's a tall order, especially with media coverage confined almost entirely to the big parties.
Chrysanthos Mardapittas, who's standing in Nicosia, was also a candidate in the EU elections two years ago, when he got about 250 votes. (Themistokleous ran in those elections too, with the Animal Party.) It's telling that Mardapittas views his current candidacy in rather quixotic terms. "I'm not asking [people] to vote for me, I'm there to protest the system," he told the Cyprus Mail. "I'm there to say 'Enough!'."
That has often been the role of independents – to act as a protest vote, a lightning rod for public disaffection. Paradoxically, the fact that they had no hope of being elected was precisely their biggest selling point.
Things may be changing, however, especially with the recent (unsurprising) revelations that parties are riddled with corruption, not to mention the vast social pain inflicted in the past year by measures and lockdowns. It may be significant that Mardapittas, at 62, comes from a different generation than Christou and Themistokleous, who are in their early 30s and view independence as a viable option.
"18 to 45," says Themistokleous when asked what demographic he's targeting. "Because people over 45 – the vast majority – have been raised on this party system, and it's not easy for them to think something different."
All three candidates place a premium on personal experience. Most MPs "never worked in their lives," scoffs Mardapittas, who brings a background as a project manager and process engineer in the oil and gas industry. (He moved back to Cyprus in 1996.) He once handled a $1.2 billion project "and I didn't get a cent," he declares proudly, meaning under the table. Corruption is his greatest bugbear, and he recently wrote to auditor-general Odysseas Michaelides about it; he seems to be that kind of person, a concerned citizen and thorn in the side of what he calls the "closed circle".
The other two are even more emphatic about differentiating themselves from out-of-touch politicians. Christou is a successful lawyer with extensive experience in criminal law – a pulpit from which he's seen plenty of the dark underbelly of society, people who are marginalised and in dire need of support.
He stands for equal rights, transparency and social justice, and vows to "fight a battle every day in parliament, and in the committees". Themistokleous, too, places vulnerable groups – along with more incentives for young people – at the top of his agenda, as well as bringing his own humble background to the table.
He tells a story of an encounter with an elderly shopkeeper in Larnaca a few days ago. The old man looked dubious when he said he was running as an independent, then made a surprising request: "Let me see your hands".
Themistokleous has been working since he was 14, and his hands are hard and blistered. "Hmm. Well, I'll think about it," said the old man after checking his hands, looking somewhat mollified – then explained his reasoning. "I've been working for 50 years, and I've met a lot of them [i.e. politicians]. I've shaken hands with them – their hands are softer than a woman's behind. For me, only a man who's worked is a man that can feel my pain."
What does that story show? Maybe just the obvious, namely that a large demographic exists who feel unrepresented in today's democracy. Not that independents are the perfect answer. They're just one person, however dynamic and well-meaning. They don't have the impact of a big party speaking with one voice.
Then again, that 'one voice' – decided by party bosses rather than the MP themselves – is precisely the problem. "The reason I didn't go with any party," says Themistokleous (who claims he had "many offers") "is because I want to be held accountable by the people… I don't have a boss," he adds. His only boss is the old man in Larnaca.
The fuss over Generation Change illustrates the difficulties posed by our current system. Simply put, it makes much more sense to be a party – partly because only a party can proceed to the second distribution of seats. But when everyone's in lockstep, how can they claim to be independent?
One thing's for sure, it'll make history if a solo candidate gets elected in two weeks. "We're the ones who write history," points out Christou, who's been organising his campaign for many months now. "And history can be written in these elections. I'm sure of it." Like he says, maybe it's time.